SKU: NXA1057-001
Nexa Motorspatz Glider 2500mm (98.4") Wingspan - ARF
Regular price

€31000

(VAT inc.)

Sale price

€31000

Regular price

€000
(Save

€-310.00

)

Overview
Motorspatz Glider 2500mm (98.4") Wingspan - ARF from Nexa - NXA1057-001
The SF-24 Motorspatz by German designer Egon Scheibe is a motorized, single-seat, high-wing glider derived from the non-motorized Scheibe Spatz. Described as "primitive" in 1983 by Soaring Magazine, it is a notable example of self-launching sailplanes.
The Nexa Motorspatz Glider is a electric option glider with a 2500mm wingspan, constructed primarily from balsa wood and covered with a weathered pattern. This ARF requires assembly and installation of your choice of servos and power system, and includes a large battery hatch and electric motor mount. Impress at your flying field with this unique glider!
Visit the Official Nexa Motorspatz Glider 2500mm ARF Discussion Thread on HobbySquawk.com for additional photos, videos, reviews, and customer Q&A.
Spacious Battery Hatch

The Nexa Nexa Motorspatz Glider comes equipped with a spacious battery hatch with ample room for your battery and periphreal electronics and equipment.
Easy Servo Access

A convenient servo access hatch is pre-installed so you will have no problem accessing the servos at any time you require.
Fully Covered Weathered Detail

The Nexa Motorspatz Glider comes fully covered with a realistic weathered-detail pattern and an attractive blue and white livery.
Control Surfaces Pre-Hinged and Installed

All control surfaces are pre-hinged and installed for your convenience.
Features:
All Balsa and lite-ply construction
Fully covered in weathered detail
Control surfaces pre-hinged and installed
Two piece wing with aluminium wing joiner
Big battery hatch for Electric version
Electric Motor mount
Includes:
Nexa Motorspatz Glider 2500mm (98.4") Wingspan - ARF

Assembly instructions with stage photos

Electric motor mount

Aluminium wing joiner

Decals and all hardware
Requires:
Customer Note
Nexa ARF models are constructed out of balsa wood and plywood. These are not foam models. The assembly of balsa wood ARF aircraft requires basic model building skills including the installation of servos, ESC, and motor (or gas engine).
Product Specifications:
SKILL LEVEL :

intermediate
| | |
| --- | --- |
| Model Scale | 1/5.5 |
| Wingspan | 2500mm / 98.4in |
| Length | 1120mm / 44.9in |
| Empty Weight | 1350g / 47.6oz |
| CG (Center of Gravity) | 70mm from the leading edge of the wing's root |
| Power System | 950Kv or equivalent brushless outrunner motor (required) |
| Electronic Speed Control | 45A (required) |
| Propeller / EDF | 10x6 2-blade (required) |
| Servos | 4x 17g metal gear servos for ailerons, elevator and rudder - HRC6005-022 |
| Landing Gear | Single wheel (included) |
| Required Battery | 4 Cell 14.8V 2500 - 3700mAh LiPo battery (required) |
| Required Radio | 4+ Channel (required) |
| Ailerons | Yes |
| Elevator | Yes |
| Rudder | Yes |
| Flaps | No |
| Lights | No |
| Hinge Type | Nylon Heavy Duty |
| Material | Balsa and light plywood |
| Skill Level | Intermediate |
| Build Time | 6+ Hours |
| Recommended Environment | Outdoors |

Q&A
Product questions & answers
NOTE: Questions submitted on this page are answered by customers who have previously purchased this item. If you have a support related question that requires immediate assistance, please visit our Help Center

Support
Product support
Product Manuals:
If you need any additional assistance, please visit the Motion RC Help Center
SKU: NXA1057-001
Nexa Motorspatz Glider 2500mm (98.4") Wingspan - ARF
Regular price

€31000

(VAT inc.)

Sale price

€31000

Regular price

€000
(Save

€-310.00

)
Adding product to your cart
Customer Reviews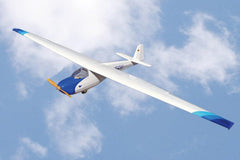 Nexa Motorspatz Glider 2500mm (98.4") Wingspan - ARF
ARF BUNDLE - ARF plus Electronics - $219.00
Regular price

€31000

(VAT inc.)

Sale price

€31000

Regular price

€000
(Save

€-310.00

)