SKU: NXA1030-001
Nexa G35 Sport V-Tail 1580mm (62") Wingspan - ARF
Regular price

€31500

(VAT inc.)

Sale price

€31500

Regular price

€000
(Save

€-315.00

)

Overview
G35 Sport V-Tail 1580mm (62") Wingspan - ARF from Nexa - NXA1030-001
The G35 Sport is an American general aviation aircraft introduced in 1947 by Beech Aircraft Corporation of Wichita, Kansas. The six-seater, single-engined aircraft is still being produced by Beechcraft and has been in continuous production longer than any other aircraft in history.
The Nexa G35 Sport V-Tail is a electric or gas option .46-size aerobatic airplane with a 1580mm wingspan, constructed primarily from balsa wood and covered with a fuel-resistant covering. This ARF requires assembly and installation of your choice of servos and power system, and includes fully functional flaps, fiberglass cowl, painted pilot, detailed cockpit and other scale details. The large battery hatch affords ample room for either electric or gas setups. Impress at your flying field with this iconic civil aircraft!
Please Note: The struts pictured are optional shock absorbing struts. More basic wire struts are included with the plane. The optional struts are located in our "upgrade" or "spare parts" tabs (coming soon).
Visit the Official Nexa G35 Sport V-Tail 1580mm ARF Discussion Thread on HobbySquawk.com for additional photos, videos, reviews, and customer Q&A.
Fully Covered and Detailed

The Nexa Bonanza V-Tail comes fully covered including weathering, simulated panel lines and rivets.
Scale Details Throughout

There is no shortage of scale details with this Bonanza V-Tail including functional flaps, detailed cockpit and painted pilot.
Fiberglass Cowling

The cowl is made of fiberglass for both looks and durability.
Fly A Classic Civil

The Bonanza V-Tail is an iconic and ubiquitous civillian aircraft capable of both aerobatic flights and scale cruising.
Features:
Complete Balsa and lite-ply construction for rigidity and durability
Covered from tip to tail in scale details including functional flaps, plastic seat, antenna, printed simulated panel lines and rivets
Fiberglass cowling for strength and durability
All control surfaces come out of the box pre-hinged and installed for convenience
Large battery hatch allows for your chosen electric or gas setup

Includes:
Nexa G35 Sport V-Tail 1580mm (62") Wingspan - ARF
Wheels and spinner
Fuel tank, hardware and decals
Requires:
Gas Requires:
Customer Note
Nexa ARF models are constructed out of balsa wood and plywood. These are not foam models. The assembly of balsa wood ARF aircraft requires basic model building skills including the installation of servos, ESC, and motor (or gas engine).
Product Specifications:
SKILL LEVEL :

intermediate
Model Scale

1/7.5

Wingspan

1580mm / 62.2in

Length

1170mm / 46.0in

Empty Weight

3200g / 112.87oz

CG (Center of Gravity)

128mm from the leading edge of the wing's root

Power System

580Kv or equivalent brushless outrunner motor for electric or .46 - .70 (7.45cc - 11.5cc) for gas (required)

Electronic Speed Control

70-85A (required)

Propeller / EDF

13x8 2-blade for electric or 12x6 2-blade for gas (required)

Servos

45g metal gear standard: left aileron, right aileron, elevator, rudder - HRC6005-017
17g metal gear standard: left flap , right flap - HRC6005-022

Landing Gear

Wire struts included, electronic retractable gear optional

Required Battery

4 Cell 14.8V 4500 - 5000mAh LiPo Battery (required)

Required Radio

7+ Channel (required)

Ailerons

Yes

Elevator

Yes

Rudder

Yes

Flaps

Yes

Lights

No

Hinge Type

CA fabric

Material

Balsa and light plywood

Skill Level

Intermediate

Build Time

6+ Hours

Recommended Environment

Outdoors

Q&A
Product questions & answers
NOTE: Questions submitted on this page are answered by customers who have previously purchased this item. If you have a support related question that requires immediate assistance, please visit our Help Center
SKU: NXA1030-001
Nexa G35 Sport V-Tail 1580mm (62") Wingspan - ARF
Regular price

€31500

(VAT inc.)

Sale price

€31500

Regular price

€000
(Save

€-315.00

)
Adding product to your cart
Customer Reviews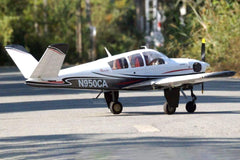 Nexa G35 Sport V-Tail 1580mm (62") Wingspan - ARF
ARF BUNDLE - ARF plus Electronics - $219.00
Regular price

€31500

(VAT inc.)

Sale price

€31500

Regular price

€000
(Save

€-315.00

)