SKU: TBRC81B
Turbo Racing Monster Truck Black 1/76 Scale 2WD - RTR
Regular price

€8599

(VAT inc.)

Sale price

€8599

Regular price

€000
(Save

€-85.99

)
Overview
Videos
Spare Parts
Q&A
Support

Overview
Monster Truck Black 1/76 Scale 2WD - RTR from Turbo Racing - TBRC81B
Version Info: This car is delivered as "RTR", however does require 4 x AAA batteries for the transmitter, purchased separately (see Requires below for details).
Meet the next small thing, brought to you by Motion RC - 1:76 Scale Micro Turbo Racers Monster Trucks! Don't let their tiny size make you doubt their performance capabilities as they feature fully proportional and adjustable rate steering, adjustable throttle curves for various skill levels, more than 30m (almost 100') of radio range, and a robust 30 minutes of race time per charge. Experience the fun of an obstacle course contained on a coffee table and when combined with Motion RC's industry-leading service results in a hobby experience that the entire family can enjoy. This Turbo Racing model is fast and agile, assuring you of a model filled with driving excitement. Drive on!
Visit the Official Turbo Racing 1/76 Scale 2WD Car Discussion Thread on HobbySquawk.com for additional photos, videos, reviews, and customer Q&A.
Micro Electronics

The integrated 2.4GHz receiver, electronic speed control, and LED light controller deliver precise control and impressively long run times.
Bright LED lights

Bonus details like bright LEDs add to the cool factor by allowing nighttime driving.
Features:
Fully proportional 2.4GHz transmitter
Monster Truck-spec tires for thrilling acceleration and performance
Functioning LED Headlight and Taillight set
Convenient USB or Transmitter-based charging system
Adjustable steering rate and throttle curves for all skill levels
Up to 30 minutes of race time per charge
Includes:
Turbo Racing Monster Truck Black 1/76 Scale 2WD - RTR
2.4GHz Transmitter
Specifications:
Length: 53.5mm (2.08")
Width: 40.5mm (1.57")
Height: 28mm (1.09")
Weight: 18g ( 0.64 oz.)
Requires:
Four (4) AAA size batteries for the radio transmitter  

Videos

Spare Parts
Product Spare Parts
Turbo Racing Rollup Racetrack 80 x 120cm (31.2" x 46.8")
SKU: TBR760050
€3199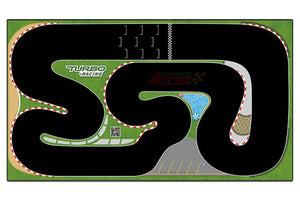 Turbo Racing Rollup Racetrack 90 x 160cm (35.1" x 62.4")
SKU: TBR760102
€3399
Sold out
Turbo Racing Rollup Racetrack 50 x 95cm (19.5" x 37")
SKU: TBR760101
€1599

Q&A
Product questions & answers
NOTE: Questions submitted on this page are answered by customers who have previously purchased this item. If you have a support related question that requires immediate assistance, please visit our Help Center

Support
Product support
Product Manuals:
If you need any additional assistance, please visit the Motion RC Help Center
SKU: TBRC81B
Turbo Racing Monster Truck Black 1/76 Scale 2WD - RTR
Regular price

€8599

(VAT inc.)

Sale price

€8599

Regular price

€000
(Save

€-85.99

)
Adding product to your cart
Customer Reviews
Overview
Videos
Spare Parts
Q&A
Support
Turbo Racing Monster Truck Black 1/76 Scale 2WD - RTR
ARF BUNDLE - ARF plus Electronics - $219.00
Regular price

€8599

(VAT inc.)

Sale price

€8599

Regular price

€000
(Save

€-85.99

)