SKU: KYO33021
Kyosho Inferno MP9 TKI4 V2 1/8 Scale 4WD Nitro Buggy - RTR
Regular price

€53400

(VAT inc.)

Sale price

€53400

Regular price

€000
(Save

€-534.00

)
Overview
Videos
Spare Parts
Q&A

Overview
Inferno MP9 TKI4 V2 1/8 Scale 4WD Nitro Buggy - RTR from Kyosho - KYO33021
Version Info: This truck is delivered as "RTR", however does require 8x AA batteries for the transmitter and receiver, also you will need a fuel bottle, glow igniter and fuel, purchased separately (see Requires below for details).
With 8 world championship titles, the Inferno has set the standard as the most powerful 1/8 scale engine racing buggy of all time. The DNA of the competition-level MP9 TKI4 kit model and its advanced racing technology is embodied in this Readyset. The MP9 TKI4's long front suspension arms and 17.5°caster front hub carriers create superior cornering and sharp control. The cab forward type body increases downforce, giving the TKI4 an aerodynamic performance advantage and delivers balanced cornering and optimal traction. Inclusion of the user-friendly and high torque KE21SP engine fitted with recoil starter and tuned exhaust, anyone wishing to challenge the peak of 1/8 engine buggy performance can find the perfect racing partner in this MP9 TKI4 and it is backed by Motion RC's world-renowned customer service and technical support. Drive on!
Visit the Official Kyosho Inferno MP9 TKI4 1/8 Scale 4WD Buggy Discussion Thread on HobbySquawk.com for additional photos, videos, reviews, and customer Q&A.
New KE21SP Engine




The new KE21SP engine delivers an optimal balance of power, torque, idling stability and easy starting. Features rear exit exhaust, recoil starter and slide carburetor.Engine break-in is made effective and easy even for beginners with the inclusion of reducer for break-in.
Excellent Shock Absorption




Aluminum big bore shocks on front and rear feature dial spring adjustment and deliver excellent shock absorption and superior running stability under any situation. Sway bars are also included on the front and rear.
Improved Steering Response and Stability




Long type front suspension arms deliver improved steering response and stability. Turnbuckle tie rods allow for precision adjustment of camber and toe.
Caster C-Hubs




17.5° caster C-hubs improve steering and stability on rough tracks.
Protection




Mud guards and wheel scrapers keep the drive train free from power robbing debris.
Balanced Performance




Cab forward body delivers balanced performance between steering response and traction.
Features:
Readyset contains a pre-assembled chassis and body, including everything except batteries for the transmitter/receiver and engine starting tools. Can be ready for action the same day you buy it
Both steering and throttle are equipped with high-torque metal geared KS5031-09MW servos
Precision setting adjustment of wheelbase, tread, toe angle, camber angle, caster angle and roll center etc.
Features a large capacity air cleaner that extends the maintenance cycle
Wide variety of available option parts provides extensive range for tuning on track performance
Includes:
Kyosho Inferno MP9 TKI4 V2 1/8 Scale 4WD Nitro Buggy - RTR
Factory assembled chassis installed with R/C system
Printed pre-cut body complete with decals
Pre-installed KE21SP engine with rear exhaust
Syncro KT-331P transmitter
1.5, 2.0, 2.5mm Hex wrenches
Cross wrench (small)
17mm Wheel wrench
Requires:
Product Specifications:
SKILL LEVEL :

intermediate
| | |
| --- | --- |
| Model Scale | 1/8 |
| Length | 490mm / 19.2in |
| Width | 307mm / 12.0in |
| Height | 180mm / 7.0in |
| Weight (No Battery) | 3370g / 118.8oz |
| Wheelbase | 325mm / 12.7in |
| Ground Clearance | N/A |
| Body | ABS Plastic |
| Chassis | N/A |
| Drivetrain | N/A |
| Wheel Size (Diameter x Width) | 116mm x 44mm |
| Wheel Hex Size | N/A |
| Tire Tread | 254mm |
| Bushing Material | N/A |
| Suspension | N/A |
| Shock Type | N/A |
| Transmission | N/A |
| Gear Pitch | N/A |
| Internal Gear Ratio | 11.7:1 |
| Final Drive Ratio | N/A |
| Pinion | N/A |
| Spur Gear | N/A |
| Differential | N/A |
| Ball Bearings | N/A |
| Brakes | N/A |
| Electronic Speed Control | N/A |
| Motor | Kyosho Speed House Torx Brushless |
| Battery | 8x AA batteries (required) |
| Max Battery Dimensions (L x W x H) | N/A |
| Servos | N/A |
| Radio | Syncro KT-331P transmitter |
| Lights | No |
| Sound | No |
| Water Resistant | N/A |
| Skill Level | Intermediate |
| Assembly Time | 1 Hour |
| Recommended Environment | Offroad |

Videos

Spare Parts
Product Spare Parts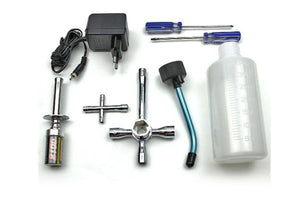 Kyosho Nitro Starter Pack (EU)
SKU: KYOB7002
€3749

Q&A
Product questions & answers
NOTE: Questions submitted on this page are answered by customers who have previously purchased this item. If you have a support related question that requires immediate assistance, please visit our Help Center
SKU: KYO33021
Kyosho Inferno MP9 TKI4 V2 1/8 Scale 4WD Nitro Buggy - RTR
Regular price

€53400

(VAT inc.)

Sale price

€53400

Regular price

€000
(Save

€-534.00

)
Adding product to your cart
Customer Reviews
Overview
Videos
Spare Parts
Q&A
Kyosho Inferno MP9 TKI4 V2 1/8 Scale 4WD Nitro Buggy - RTR
ARF BUNDLE - ARF plus Electronics - $219.00
Regular price

€53400

(VAT inc.)

Sale price

€53400

Regular price

€000
(Save

€-534.00

)