SKU: ADM7002-001
Admiral 60cc Two-Stroke Engine
Regular price

€49900

(VAT inc.)

Sale price

€49900

Regular price

€000
(Save

€-499.00

)

Overview
60cc Two-Stroke Engine from Admiral -
ADM7002-001
This new 60cc Admiral gas engine is a potent 62cc gas engine that's ideal for your 50–60cc size project. Precision made with high-quality materials, its finished appearance is a tribute to the long-lasting use you can expect. The rear carburetor mount design means the slim design will fit into more spaces such as a narrow warbird cowl. The muffler mounting points are spaced to fit a wide variety of headers and silencers so you can easily find what suits your model best. The ignition system allows you to choose from a variety of power options such as a lightweight 2S Li-Po battery. The four-bolt propeller mounting pattern matches other popular engines to make propeller changes simple. No matter what type of airplane project you have, this Admiral 60cc gas engine is the easy choice for big gas power.
Features:
Excellent power-to-weight ratio
Designed to be easy to use and reliable
Improved power output
Dual ball-bearing cantilevered crankshaft
Common propeller bolt pattern
CM6 spark plug provides reliability and small footprint
Lightweight, 2S LiPo-compatible ignition
Will handle up to a 24-inch, two-blade propeller
Includes:
Admiral 60cc Two-Stroke Engine
Requires:
Please review the specification table at the bottom of this page for battery, ESC and other recommendations that will work best for this motor
RC Engine Maintenance Notice
Please note: All RC model gas-powered engines require the user to properly set up, tune, and maintain the engine in order to achieve consistent peak performance. You will need to break-in the engine initially, then perform routine maintenance including cleaning the engine, lubricating its seals and moving parts, and adjusting the fuel mixture and valves as necessary. This is considered the normal responsibility of owning and operating an RC gas engine. For further questions, please contact Customer Support.
Product Specifications:
| | |
| --- | --- |
| Displacement | 61.5cc |
| Bore | 46mm |
| Stroke | 37mm |
| RPM Range | 1,200-7,350 RPM |
| Mix Output | N/A |
| Engine Weight | 1490g |
| Overall Weight | 1602g |
| Ignition Power | CDI |
| Recommended Propeller | 22x10 / 26x10 |
| Fuel | 87+ octane gasoline |
| Lubricant Ratio | 32:1 |

Q&A
Product questions & answers
NOTE: Questions submitted on this page are answered by customers who have previously purchased this item. If you have a support related question that requires immediate assistance, please visit our Help Center

Support
Product support
Product Manuals:
If you need any additional assistance, please visit the Motion RC Help Center
SKU: ADM7002-001
Admiral 60cc Two-Stroke Engine
Regular price

€49900

(VAT inc.)

Sale price

€49900

Regular price

€000
(Save

€-499.00

)
Adding product to your cart
Customer Reviews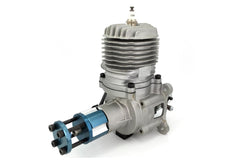 Admiral 60cc Two-Stroke Engine
ARF BUNDLE - ARF plus Electronics - $219.00
Regular price

€49900

(VAT inc.)

Sale price

€49900

Regular price

€000
(Save

€-499.00

)